Welcome to my website, where the focus is definitely on quilts.
Quilting is an important part of my life. Whether studying old quilts or making new ones, I'm guaranteed a learning experience,
an exchange with friends, and satisfying that need to just touch fabric and see what it can become. I feel fortunate to have found
an interest and passion that gives back on so many levels.
I am a quilt-maker, quilt author, quilt collector, and quilt teacher.
I am also an appraiser, accredited member of the American Society of Appraisers, specializing in quilts and textiles.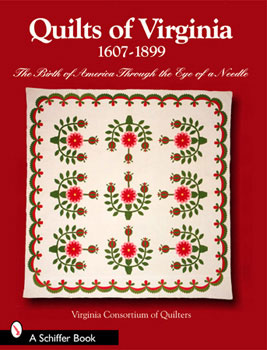 "Quilts of Virginia 1609 - 1899 The Birth of America Through the Eye of a Needle"
by the Virginia Consortium of Quilters Barbara Tricarico, Editor and Photographer Co-authors: Maren Lindberg, Hazel Carter, Paula Golden, Bunnie Jordan, Joan McGowen
This new book celebrates Virginia's 400th anniversary in 2007 by presenting over 270 beautiful historic quilts and ephemera in over 325 color and vintage photographs. From the quilted armor of the 27th century to crazy quilts of the 19th century, these personal family and museum treasures include homespun work of slave and fancy work of freed women and First Ladies. The eight Virginia-born U.S. presidents are each represented here, with work from George Washington's great-great-grandmother to quilting by Mrs. Woodrow Wilson The contents derive from the study of more than 3,000 quilts statewide that were meticulously examined by the Virginia Consortium of Quilters' Documentation Project. Ths books is an important contribution to quilting history and Virginia heritage, and will be inspirational today for enthusiastic quilters everywhere.
To read more about my quilt background, please check out my interview by Kim Wulfert at Antique Quilt Dating. It's in the Women at Work section.